I was invited to a fancy dress party with the theme of 'Dead Celebrities'. I'd never even heard of a theme like that and was completely puzzled as to who I could go as that wasn't too obvious or too expensive to create! I thought about Marilyn Monroe (too obvious), Amy Winehouse (a good idea but another obvious choice), I even did a quiz online that told me I should be Lucy from 'I Love Lucy' (ironic since I'm also a Lucy) but it looked too difficult and meant expensive wigs and no-one knowing who I was meant to be! So eventually I settled on Judy Garland which meant I could go as Dorothy from the Wizard of Oz! I also knew that this was a costume that I could make very cheaply and I already had a suitable pattern...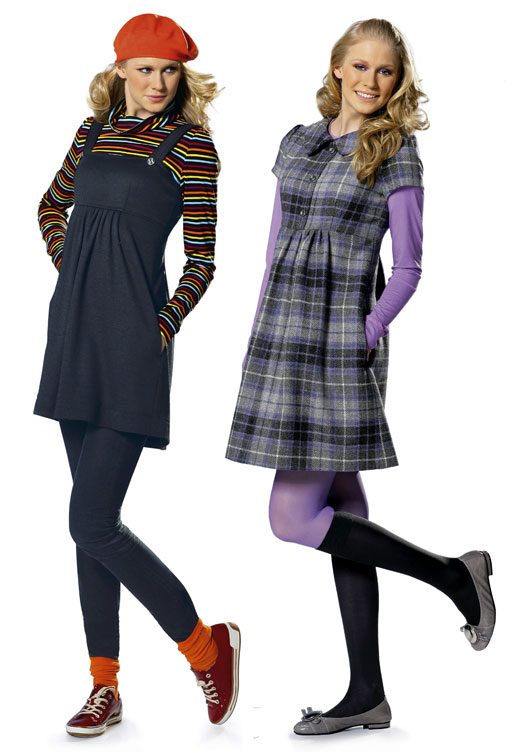 Remember the first ever dress I made,
Burda 7739
? Well, as you can see, included in that pattern were the pieces for a pinafore dress. Now it's actually technically a 'jumper' and is recommended to be made out of knit fabrics, but I just chucked the rules out of the window and made it out of gingham cotton with a few amendments. My other Burda dress is slighly too big so I cut the bodice for this one out in a size 10, which then meant that my existing skirt pieces would be too big, so instead of pleating the skirt as it advises in the pattern, I gathered it to fit the bodice. I also just sewed the straps on rather than making buttons as this is more true to the original Dorothy outfit!
Sorry, this picture was taken after I'd worn it!
I already had a cute little blouse I could wear under the dress (I wasn't going for the high necked look on a night out!) and out of some fabric leftovers I made a cute bow for my hair like Dorothy's in the above picture. And of course I needed the shoes....
Now those of you that have read some of my other recent posts will know that I've recently had a toe operation and this has meant needing to wear open-toe shoes, and they also needed to be flat to avoid putting excess pressure on my toe. After much searching on eBay I couldn't find any shoes that fit the requirements so I ended up glittering my own! I bought a pair of red polka dot open-toe flats in the sale for £4 in Asda, and two pots of red glitter from The Works at 50p a pot. My mum already had some Modge Podge glittery PVA glue so I set about getting glitterfied! I painted a section of the shoe with glue and then sprinkled some of my glitter over it. I then did the entire shoe, glittering a small section at a time, then the other shoe and left them to dry. Once they'd dried I then went over again and did another layer and I then filled in any gaps I found. Once they were dry I sprayed them with hairspray on a daily basis to encourage the glitter to stay on and not go everywhere!! Luckily for me, it stayed and my shoes returned home still glittery after the party!
And here's the finished result! Unfortunately you can't see my shoes or my bow in this picture but you get the idea!