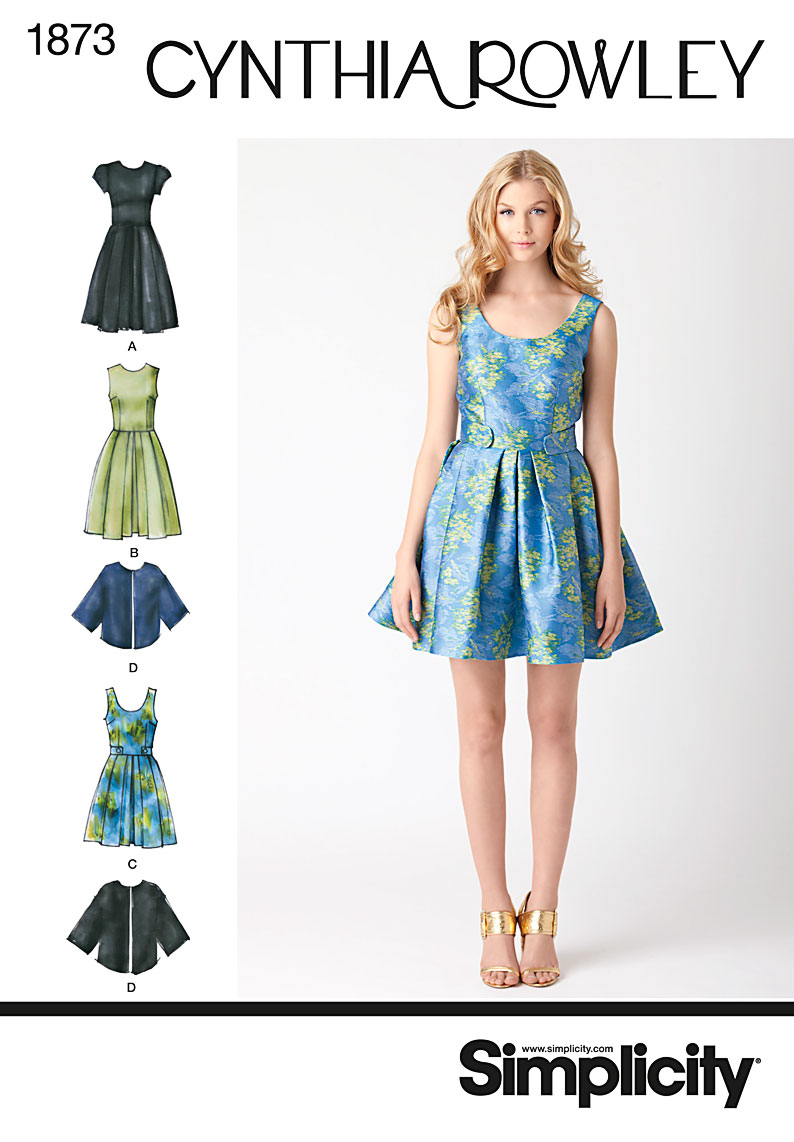 I picked up a purple paisley print crepe remnant in Fabric Land for £2.40. It was about 1.4m so I thought I'd be able to do a practice run of Simplicity Cynthia Rowley 1873 out of it before using the more expensive crepe I got for my birthday. It turned out that actually, no, that wasn't going to happen, even for view C (as shown on the model), because due to all the pleats in the skirt the pieces are mahoooosive! So instead I ended up using the skirt pieces from Burda 7739 to make a gathered skirt. It was the bodice I really wanted to check anyway as I wanted to check the fit and practice the invisible zip.
Anyway the modified version of this went together really quickly! The instructions for the lining were really good so the lining went in easily (much better than my
first ever attempt at lining at bodice with McCall's M6011
, McCall's could learn a thing or two from this pattern) and I had just happened to have read
Karen's post
about turning darts in the lining into pleats to give the lining some extra give so I tried it out. I'm glad I did as it worked out very well!
This was my first time inserting an invisible zip. I can't believe I've got to this point without attempting one but I always thought I had to have an invisible zip foot and that invisible zips were scary. However after some googling and a great
tutorial by Kay of Sew Serendipity
, I no longer fear the invisible zip! Considering for a long time I inserted zips without a zip foot, I really should have known that an invisible zip could be done with a normal zip foot!
My first invisible zip!
This is the first Simplicity pattern I've used and I have to say that I wasn't too impressed by the fit. I tried the bodice on before I sewed it up and found that the bodice was going to be too tight at the waist and gaped massively at the top of my back around the neckline. So I ended up having to make some adjustments to try and sort that out (and I succeeded) but the dress still doesn't fit as well as I'd like around the bust. I'm happy with it and I'll definitely still wear it a lot but it could have been better! I have no idea what shape person the bodice was meant to fit but it definitely wasn't Lucy shape.
So here's the finished article. I already had the pattern, zip, lining fabric and thread in my stash so this dress only cost me the £2.40 that the fabric remnant cost and for that reason I'm not so worried about the bust fitting!
This picture shows best the folding I'm getting around the bust where the fit isn't great on me!
I've spent today working on adjusting the bodice pattern and it's been a labour of love let me tell you... I've never even moved a dart before and this has involved moving darts and turning darts into princess seams (because I like the way they look) but that's a post for another day!